Year 4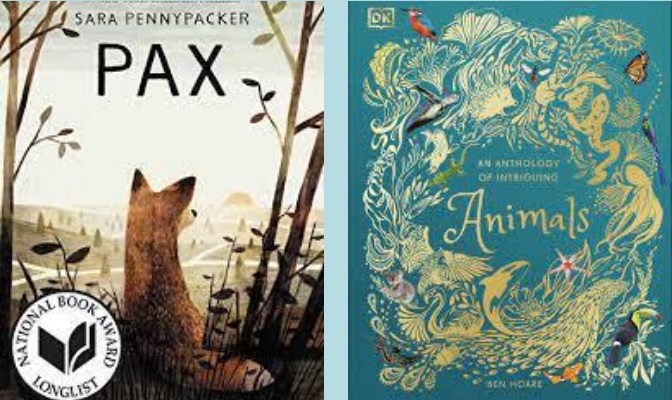 This matrix shows the learning in Y4 across all subjects.
Spring term 2 
Year 4 is taught by Mrs Walters on Tuesday, Wednesday, Thursday and Friday. Mrs Dinham, our school SENDCo, teaches the class on a Monday. The TAs who work in Year 4 are Miss Edwards and Miss Latus.
Reading
Our class text, on which our daily reading sessions are based, is ' Pax' by Sara Pennypacker. We begin each week by learning the definitions of new vocabulary coming up in the text and recap on these each day. We then read the text together and work on a range of tasks focussing on author choice, vocabulary, compare, contrast and comment, retrieval, inference, summary and prediction.
We also read a non fiction text weekly and use our skills to retrieve information from it. This half term, our non fiction text is 'An anthology of intriguing animals' by Ben Hoare.
English
Our class text, on which our daily reading sessions are based, is 'Pax' by Sara Pennypacker. We will be writing a balanced argument text (Are foxes pests?) animal riddles and an animal adventure story, all linked to our text.
Maths
This half term, we will be working on fractions and decimals. We work on the fluency of our mental and written methods daily in 'Fluent in 5' sessions and practise our times tables every day after lunch.
Science
We'll be learning about food chains and food webs.
Geography
We will be learning about the rivers of the world. We will also learn about the Equator, Northern and Southern Hemispheres and what it is like in North America, where 'Pax' is set.
Computing
We will be learning about sharing safely online and how we can produce computer art.
PE
Each week, we will be enjoying 2 PE sessions: Dynamic Dance on a Thursday and Boxercise on a Friday. Your child may wear the school PE kit all day on these days.
RE Why do Christians call the day Jesus died 'Good Friday?'
MFL Rigolo Unit 7: Encore! We will revise ways of describing people and learn how to describe nationalities in French.
PSHE We will be discussing the issues of British government and rules, freedom and beliefs and family relationships.
MUSIC We will be studying a unit of music called 'Lean on me' from Charanga Music.
Below are this term's knowledge organisers for this term's Science and Geography learning. They list the key knowledge and vocabulary taught during this topic. Please help your child by looking through them together.
Learning at home
It is expected that every child reads most days for at least 15 minutes. Please sign your child's diary to confirm that they have read, even if they read independently. Thank you.
Spellings are set on Spelling Shed to practise and your child will also be given a paper copy each Monday. Please support your child in practising throughout the week, little and often. Spelling assessments happen each Monday with Mrs Dinham, Miss Edwards or Miss Latus. Your child will write their score in their diary so you can see how they got on.
Times tables are set on Times Tables Rock Stars for your child to practise regularly. Again, the best way to really embed these key number facts is, little and often. It is essential that children are working on these often as there is a compulsory times tables assessment at the end of year 4.
Thank you for your support with home learning.
It is our aim that every child in Year 4 has a great year. Please come and see us if you have any questions or concerns.
Reading
We love reading at Lanner!  Reading to, and with, your child is one of the greatest gifts you can give as this early acquisition of a love for reading will ensure your children becomes a reader for life.  Research shows that reading and talking to your child about stories, information books and poems from an early age benefits them for life.
Sometimes, knowing which book to choose can be a little confusing with such a wide range available, so why not have a look at the recommended reads below for Year 4 children.  Many of these books are also available at the local library so, if you're not already a member, why not take a look at the link below to join up?