Year 5
SUMMER TERM 1 2023
Our topic for this term is 'The Early Islamic Civilization'.
To inspire our curriculum learning, we are reading 'The Arabian Nights' told by Wafa'Tarnowska and 'The Silk Roads' by Peter Frankopan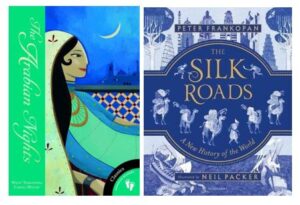 The Year 5 class is taught by Mrs Pulley.
Please contact us via the school office or Seesaw if you have any questions.
ENGLISH
Using the book, 'The Arabian Nights', we will explore and compare narratives looking at known and unknown stories.  We will compare different versions of the same stories, identify similarities and differences linked to the culture within which they are told.  We will analyse characters and identify their motivations and reasons for their actions and write letters to share their thoughts and feelings.  In non-fiction writing, we will we investigating and writing explanation texts.   The book 'The Silk Roads' will extend our understanding of the importance of these routes to the development of the Early Islamic Civilization.
Alongside our reading work, we will be exploring a wide range of Tier 2 and Tier 3 vocabulary taken from the texts.  We will play with vocabulary to aid our understanding and extend our understanding through finding synonyms and antonyms, analysing prefixes, suffixes and root words, investigating shades of meaning as well as using words correctly within and across a range of contexts.
MATHS
This half term, our learning will extend our previous understanding of decimal numbers by learning to add, subtract and multiply decimals.  In Geometry, we will learn about the properties of shapes, including regular and irregular polygons as well as reasoning about 3-d shapes.  Our main focus in Geometry will be on angles: measuring with a protractor; drawing angles; and calculating angles.  For  mental maths, we will continue to practise a range of fluency calculations with our daily Fluent in Five questions.  Children also undertake a weekly multiplication tables challenge.
SCIENCE
Our Science this half-term is 'Living things and their habitats: Plant Life Cycles and Reproduction.  This will build on their understanding of plants from KS1 and plant reproduction in Y3.  We will investigate the different ways in which plants can reproduce asexually and compare similarities and differences between asexual and sexual reproduction in plants, noting the impact on offspring. We will also be learning about reproduction of plants in different environments and whether plants have adapted to deal with the challenges posed within those environments.
Summer 1 Science_Plant reproduction
HISTORY
We will learn about the Early Islamic Civilization from its starting point within the Arabian Peninsula and its spread into Africa, further into Asia and parts of Europe.  We will investigate and identify some of the reasons why the civilization rapidly grew as well as explore the 'Golden Age of Islam' in Baghdad.  We will compare the lifestyle and achievements to that within Britain at the time – the 'Dark Ages' of the Anglo-Saxons and the Viking era and identify the lasting impact of the Islamic Civilization on the world today.
Summer 1 History_Islamic Civilisation
GEOGRAPHY
We will use atlases and maps to identify the location of the Early Islamic Civilization and its important cities.  We will also explore the links with trade along the Silk Roads and the importance and impact of Fair Trade on peoples lives today.
RE
This term we are learning about Islam, focusing on 'What is it like for Muslims living in Britain today?'  We use census data to explore the numbers of Muslims in Britain, and in Cornwall, compared to other world religions and explore aspects of the 5 pillars of Islam, building on prior learning about Muslim people in Years 2 and 3.
PE
Children will have two PE sessions each week – please make sure your child wears their PE kit in school every Monday and Tuesday.  Please make sure your child has their school PE kit on, including a school jumper.  For safety reasons, all watches and jewellery must be removed for PE lessons. If your child wears earrings, they must be able to remove them  independently or cover them with medical tape.  Please send medical tape in with your child if needed.  Alternatively, it may be easier to leave earrings at home on PE days.
This term we will be learning some of the skills, moves and routines that feature in Bollywood-style dancing. In our second PE session each week, we will be learning athletic skills associated with 'Young Olympians':  running, throwing and jumping.
COMPUTING
The children will continue to learn about online safety through our new resource, 'Gooseberry Planet'.  We will also be using coding in Scratch to create simple games.
MUSIC
This term we will be learning to listen to, appraise and respond to Motown music, building to an end performance of 'Dancing in the Street'.
ART
We will be exploring the three different styles associated with Islamic art forms: calligraphy, geometric shapes and arabesque.  We will look at the different features of each of these styles and create our own repeating geometric patterns. Finally, we will create printing blocks to print our own Islamic -style artwork.
PSHE
During this half term, the children will be learning about different aspects of life using LifeWise PSHE.  We will learn about supporting the community – how our communities support us and what we can do to support them in return.  We will also be learning about the life skill of saving money alongside making sensible decisions when it might be necessary to borrow money, e.g. for a mortgage as well as looking at Fairtrade: what it is and what can be done to support it.
MFL
This term we will be learning to talk about school, which subjects we enjoy and those we don't.  We will also be learning to ask and tell the time and look at timings of the school day.
HOME LEARNING
 In year 5, children still need to read lots! All children are expected to read at home most nights for 15 – 20 minutes either to themselves or with an adult. This could be their school Accelerated Reader book, listening to a story read by someone else or sharing a favourite book. All are equally valuable. Talking about what they have read is also vital to help develop comprehension skills. This is particularly beneficial to the children when completing their Accelerated Reader quizzes.  All children have a reading record book in which parents, carers or the children themselves can record what they have read or make any comments.
In addition, children all have a short written maths paper to complete each week which is handed out on Friday and marked the following Friday.  Please also encourage your child to access Times Tables Rockstars, and Spelling Shed – online sites for practising their times tables and spellings.   Please encourage your child to learn their spellings and times tables regularly – five or ten minutes a day is likely to be more beneficial than an hour once a week.